Homepage of Dr. Arno Wagner
---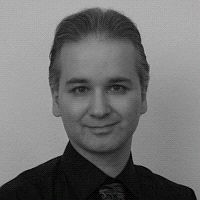 Postal address:
Dr. Arno Wagner
Gruetstr. 53
CH 8047 Zurich
Switzerland

E-mail: arno@wagner.name


---
Interests
Network Security

Internet measurement and observation, traffic anomalies, DDoS attacks and preparations.
System Security with a focus on Software Engineering aspects, software analysis, robust and secure software design.
Application of Cryptology
---
---
Other Useful Stuff
---
Tools, Howtos, etc.
---
My PGP public key: (Signed and encrypted mail welcome!)
Key fingerprint = 12D6 C03B 1B30 33BB 13CF B774 E35C 5FA1 CB5D 9718

pub   2048D/CB5D9718 2012-11-14
uid                  Arno Wagner (new key 2012) <arno@wagner.name>
sub   2048g/3D465671 2012-11-14

Key in ASCII-armor
---
Last update: March, 2016 Arno Wagner